January 2019 Update and Block Instructions – String Piecing
Happy New Year everyone! We are excited to get working on a whole new batch of Community Quilts for Abbotsford Victim Services and have lots of great block ideas lined up for the coming months.
January 2019 Block Handout – String Piecing:
We will be giving you an 11" square paper foundation and a piece of white fabric for the center and then you just build it out from there with strips of varying sizes in the same colour family (eg all blues in different shades or all greens etc.). Once the block is finished you just need to trim off the edges to 11" and remove the paper.
To start off the year we thought we would do a block that would help you use up some of the fabrics in your stash or some of the fabrics that you picked up at the de-stash.  String piecing is perfect for this and it's lots of fun to do.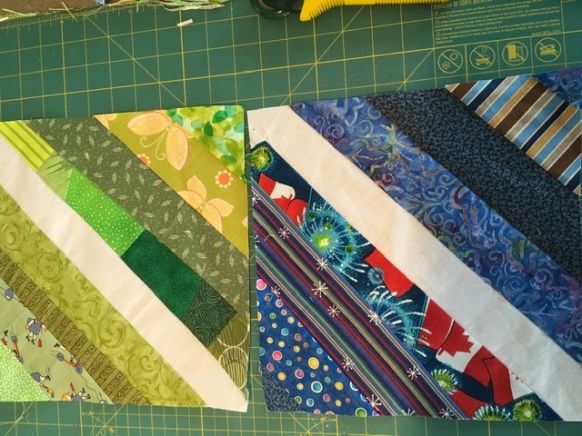 Please come by the Community Quilt table when you sign in or on the break and see Joanne or Kathryn to pick up your block supplies. Complete instructions with pics will be posted on Facebook and the website. Our goal is to make 70 blocks that will be put together into two quilts. Blocks are due back at the February meeting.
REMINDER: Please remember to bring back your paint chip wedge blocks. We can't wait to see what you have come up with and would love to put them together at the next Sew-In on January 19th if any of you would like to help.
And last but not least… if you have any fabric that you would like to donate to Community Quilts rather than put it in the de-stash we will gladly accept it. Solids and larger pieces are always needed and our supply of fabric is quite low.
Thanks for all your help with this program. We really appreciate the time that you put in to make blocks and help assemble and finish these quilts.
Kathryn & Joanne