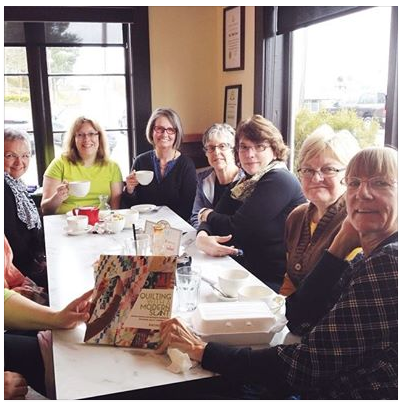 The FVMQG Modern Coffee Klatch will be meeting up the first Saturday of each month!  A schedule of where we will be meeting up will be posted here on our website; also to be announced at our monthly meetings and will always be listed on our Facebook pages.
You are cordially invited to drop by the next Fraser Valley Modern Coffee Klatch.  These meet-ups are open to anyone, are usually at a local coffee shop or a local event, somewhere in the Fraser Valley.
Feel free to bring a friend, a current project, an idea for a project, info about upcoming events that are quilting-related, or just your curiosity.
There is no FEE except for your coffee/refreshment! We meet for approximately one hour but maybe longer depending on the discussion.  We are going to try meeting a bit earlier this year and will meet up at approx. 10:00am on the first Saturday of each month.
We are an open and friendly guild of modern quilters and we welcome newcomers.  You will meet many quilters & sewers who love to share project ideas, bring their current projects to 'show-n-tell' and discuss modern quilting.
September 2014 meet up:
Willoughby at the Countryside Quilt Show on September 20th at 10am.
This will be our first meet up for this new year.
A Celebration of our Quilts – Countryside Quilters
September 20
Willoughby Reformed Church
20525 72 Avenue
Langley, BC
Hours 10-4
Admission $5
Details: Please join us as this amazing group of quilters display their quilts for the first time. Quilts will be displayed in the chapel of the church and during an old fashioned bed-turning several times in the day.