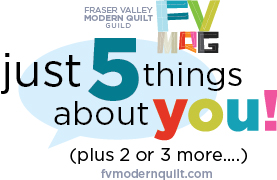 FVMQG peeps! We want you!
We are doing a fun getting to know you online, and want you to share… Just 5 things about you!
We are setting up a schedule, one member will be featured each month, starting with our amazing Lysa in March.
Please sign up with Cynthia and we'll put you in the schedule for upcoming months- it's gonna be quick and easy, we'll send you the official questions to fill in and send back, along with some photos to go with.
Who wants to be next?! Don't be shy, we want to know "Just 5 things"!
Email Cynthia here to sign up!