"Hello Darl'n!" Is often how one is greeted by our bubbly Miss January 2013. I'd like you to meet Debbie! Debbie has been with us for a while now and she has been a welcomed addition, she's been loads of fun! If you're still curious about what Debbie gets up to after reading her interview, she also has a blog, Maple Garden Quilting. I'm sure she'd be more than than happy if you get a chance to pop by.
Who taught you to sew and what age were you?
I have been sewing since I was 8 years old, when my Grandmother, Vera started to teach me. Our Mom always made my 2 sister and I clothes but was kept busy with 7 children and really never had the extra time to teach us how to sew, so we spent time with our Grandmother. I actually have the old sewing machine she taught me how to sew on. I did home economics while in school (grade 8 and 9) and sewing was part of this.
Where do you sew, is it in a studio, at a kitchen table?
I sew in a very tiny area which is actually part of my laundry room (it's small, but keeps me in control too).
Let's talk about your fabric stash, seriously how big is it? (We won't tell, promise!)
I am a confirmed 'fabric-a-holic'! Yes I have fabrics that I just touch and look at – but no way would I ever I cut it. This is a habit I share with many fellow quilters. This crazy movement just grows and grows.

Who is your favourite fabric designer? And why?
I do not have any favorite fabric designers yet as I am too new, but I do like Kona & Bella solids, Michael Miller, and of course our FVMQG in house designer Cynthia Frenette. I plan on exploring more and more designers. I love fabric with bold and bright prints – so anything in this format goes for me.
For many of us the ideas flow faster than our output. How many projects do you have in the works right now? And how many quilt projects do you have in the closet with plans of getting to one day?
I really don't have too many plans when it comes to making a quilt; I just make what interests me at the moment. I don't think I have any particular style in quilting yet, other than I constantly get inspired by my fellow quilters.
What are some new challenges you'd like to take on right now? For example, a new technique you're itching to try, making a larger quilt than ever before or doing something in a quilt that takes you out of you comfort zone?
I am new to the world of quilting, and have very much enjoyed learning about modern quilting and all that it entails. I like the idea of taking a traditional quilt design and applying the modern fabrics available to and see what I can come up with.
What are you working on right now?
Most recently I entered in to The Steam Trunk's Silk Sari Challenge. The project is something I have never done prior and I am very excited about my entry and look forward to seeing the other entries.
And! Plus one more question (The BIG question!) What makes your quilts modern?
I have made a few lap quilts and various other types of quilted projects using traditional quilting methods, and I am grateful for having learnt how to make perfect points. Not that my points are in anyway perfect, but I have been taught how to achieve them, I just can't seem to always get them that way, and refuse to abscess about it. So the relaxed nature of what modern quilting is for me works much better for me. My interpretation of Modern Quilting is that anything goes, use modern type fabrics (lots of bright prints, solid colors and negative space).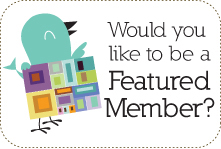 Each month we'll be featuring one of our members here and on the blog, and get to know them with a fun little questionnaire about what they love to sew, their favorite colours, fabrics and other quilty goodness they'd like to share. If you'd like to be on the list or would like to nominate a member to be featured, contact us and let us know.