This Month's Featured Member…  you know her…  you love her… our very own Cynthia!!! < the crowd goes wild>
…and why do we love Cynthia so much? She and her husband built this beautiful site for all of us to stay connected. All together now, "Thank you Cynthia (and Norm)!"
Now let's get started, 20 questions, plus one!
1. Who taught you to sew? My mum and grandmother.
2. How long have you been sewing for? Ever since I could hold a needle and thread! I used to love making Barbie clothes and little quilts and things for my dollhouse.
3. Do you only sew quilts or do you sew other things like clothing, crafts? I sew everything I can. I had planned to go into fashion design after high school and loved sewing my own clothes, mostly because I'm tall and nothing is ever long enough for me! Â I even worked at Dressew for a while which fed my habit! I changed my mind at the last minute and went into graphic design but kept sewing my own clothes. I got into quilts when I was in college, Â and dabbled in them over the years, but only recently got back into them seriously with all the amazing fabrics out there, and being able to design and print my own fabrics for them is even more exciting! I still sew clothes on occasion too. If only I could make my own shoes I'd be set!
4. Where do you sew? Kitchen table? Do you have your own sewing room? I have a dedicated art and sewing room to contain everything. It's rather small but it works!
5. When you sew do you listen to music, watch movies or sit in silence? If yes what was the last thing you listened to or watched while quilting? I have my laptop hooked up to Sirius radio- best thing ever- 80's on 8!- chair-dancing is a must!
6. Do you having a quilting assistant? A child, interested partner or furry friend that always likes to come and help out? Our little cocker spaniel cross Starr loves to help me, particularly when I'm pinning a quilt sandwich on the floor in the dining room (did I mention my sewing room is small?). She comes and drops her ball on it, or will sit beside me and help.
7. Are you a morning, daytime or night owl quilter? If I had my way, I'd be an all-day quilter! It usually works out afternoons after work or almost all day on weekends.
8. Who is your favorite fabric/quilt designer? And why? Well, have I mentioned Spoonflower? LOL! Â I love Elizabeth Hartman's quilt designs of Oh Fransson and how she combines colours. But really, I love it all! There's some amazing stuff out there!
9. Do you have a favorite quilting book/blog? If so please divulge? Oh Fransson is a fave blog/site, books I have a few, Denise Schmidt, Modern Quilt Workshop, City Quilts, it's always changing and I have a long amazon.ca wishlist!
10. What is your favorite colour? For quilts I love working with black and browns, lime greens and greys, or complimentary combinations like pink or purple and green. I'll never rule out a colour, sometimes happy accidents of combining unexpected colours are the most fun!
11. Is there a particular colour you've noticed that you never use? I rarely use yellow, no real reason; I've just never found a use for it- yet! Maybe that will be my next challenge….
12. What was the last thing that you've sewn that you felt really proud of? I'm working on a quilt using my own fabric designs I had printed at Spoonflower. I designed a collection of 6 prints with a french theme, inspired by our trip last spring to Paris. Just needs binding then it's done!
13. What was the last thing that turned out to be an absolute disaster? What did you learn from it? I'm working on a technique of quilting and painting together, my husband named the technique "Quainting", and some of the early trials were terribly disappointing. It seems to have certain things that works well with this method, very textured or detailed things- and things that don't, simple graphic shapes just do not work. I tried using a favorite china pattern, Acapulco by Villeroy and Boch- as a test stitched subject – horrid- I chopped it up and chucked it. So I learned a lot from that! I also tried a paint technique that works well on paper- you sprinkle salt into watered-down paint and it makes cool sparkley star patterns, then when it dries you brush off the remaining salt and you have a neat starry effect. On fabric is just glues itself to it and you're stuck with a crumbly bumpy sandpapery mess. Luckily I was smart and tried this on a scrap first!

14. What do you do with most of your completed quilts? Keep? Give away? Sell? Most of them at the moment are for the dog or cat- lol- though my current big one I hope will go on our bed when it's done. And then Starr will go lie on it- haha!
15. We won't tell but seriously how big is your fabric stash? Honestly- not huge! I have lots of fat quarters and bits and pieces scattered in various drawers and shelves, but I can always justify needing to get more! It's a bit of a mess, but! I know where everything is.
16. How many projects do you have on the go right now? Hmmm about 3 or 4 underway, as in at quilt sandwich phase, Â and more planned either as sketches or in my brain waiting to get out. Seriously, I need a wealthy quilting patron to pay me to just sew and design all day!
17. What is your favourite quilting tool? I tend to be rather old skool and not get all the latest gadgets I know would make things easier, but I recently discovered seam glue, thanks to Quilt Essentials, to use instead of pins and lining up seams- love it! And! I am getting a new-to-me sewing machine very shortly with all the bells and whistles and embroidery built in, which is very exciting. I've never had a machine that can do anything fancier than a buttonhole so this is going to blow my mind I'm sure!
18. Do you have a favourite quilting technique? Machine quilting, hand quilting or appliqué, etc..? Freemotion quilting/stitching is by far my "thing". I do applique too which is fun. And string piecing!
19. What are some new challenges you'd like to take on right now? For example, a new technique, organizing, etc…? More fabric design and going ahead to approach the big manufacturers to get some fabrics made "for real". Having my own fabric line is my dream!Continue with Spoonflower and entering their weekly challenges is a great creative challenge. It's also a great community and fun place to check out! Design some quilt patterns- I have one kind of started, more on that later. :)) Would love to check out EQ software too.
20. What's your day job? I'm a graphic designer/illustrator and my husband and I own and operate our own graphic design/illustration and web company, Green Couch Designs from our home in Mission.
Plus one more question. Why do you love to sew? For me it's the fabrics and colours, and making something interesting out of bits of fabric, and learning new sewing techniques. It's also neat as sewing is a family thing and remembering things my mum and grandmother taught me and using that in my work is pretty interesting and cool.
Wanna learn more about Cynthia? Check her out on her blog.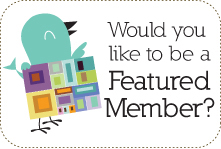 Each month we'll be featuring one of our members here and on the blog, and get to know them with a fun little questionnaire about what they love to sew, their favorite colours, fabrics and other quilty goodness they'd like to share. If you'd like to be on the list or would like to nominate a member to be featured, contact us and let us know.