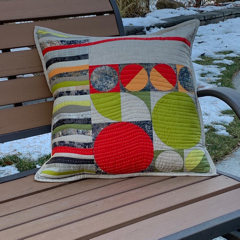 Saturday, January 16 & 23, 2021
Cost: $65 (includes pattern)
This intermediate workshop is designed to build skills in piecing gentle curves, drunkard's path blocks and inset circles to complete an 18" mini quilt or pillow. You will learn the essential skills to include curved piecing, freezer paper circles and inset circles in your quilting projects and add visual interest.
This workshop demonstrates:
– Gentle curves using a minimal waste technique. This is the warm up for ¼ circles or drunkard path blocks.
– While many quilters' have drunkard path blocks in their repertoire, the fabric glue technique can increase accuracy.
– Two different techniques for machine sewn circles with no raw edges. You will also learn how this circle technique can help you "match" the size and application in your project.
The workshop is held over two Saturdays to allow participants time to work on the project after the initial session and complete the top by the end of the workshop.
Day 1 : January 16, 2021 from 10am – noon
Day 2 : January 23, 2021 from 10am – 2pm
Registration deadline: December 17th (so that patterns can be ordered and delivered prior to the workshop)
To register send an e-transfer to fvmodernquiltguild@gmail.com and include the name of the workshop in the comment section.
This workshop is open to all members of the FVMQG. We are not taking non-member registrations at this time.
ALL WORKSHOP FEES ARE NON-REFUNDABLE