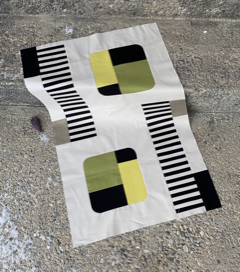 Modern Expressions Runner Workshop with Susan Madu
Saturday, March 20 & 27, 2021
Cost: $65 (includes pattern)
What you will learn:
Build/refine your quilter's toolkit of essential skills to include accurate piano keys piecing and inset pieced rounded squares to add high impact shapes to your quilting projects.

This workshop demonstrates:

It all starts with a freezer paper template. This innovative technique for rounded squares will be the jumping off point for many different modern inset blocks.

Whilst many quilters' have larger piano keys piecing in their repertoire, with some additional techniques, accurate ½" finished keys can be achieved.

Combine these clean line techniques with a muted jewel toned color palette and you have a table runner with high graphic interest.
Approximate size: 24 1/2″ x 48 1/2″
Skill level: Intermediate
The workshop is held over two Saturdays to allow participants time to work on the project after the initial session and complete the top by the end of the workshop.
Day 1: March 20, 2021 from 10am – 1pm PST (3 hours)
Day 2: March 27, 2021 from 10am – 1pm PST (3 hours)
To register send an e-transfer to fvmodernquiltguild@gmail.com and include the name of the workshop in the comment section.
This workshop is open to all members of the FVMQG. We are not taking non-member registrations at this time.
ALL WORKSHOP FEES ARE NON-REFUNDABLE